We're supporting Bedlam's cafe renovation!
One of Friends Of Bedlam's goals is to support EUTC projects, both financially and in offering the support and advice of former members now working in the arts and cultural industries. We set aside funds donated by former members to fund extraordinary EUTC projects or purchases.
We're really excited about the new cafe renovation that's just been passed by the company – but we need your help to fund it! Bedlam have requested £4000 for materials to complete the project.
Here's a quick summary of the plan:
• Remove the wall between the cafe and the toilet corridor to open up the space.
• Reformat the bar to include a reduced height counter for accessibility and additional box office capabilities.
• Replace the house right auditorium door with a fancy new soundproof one.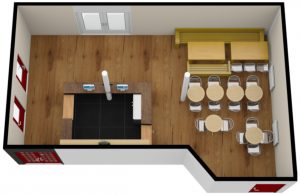 If you want to know more about this project (or are interested in reading about some other future development plans) you can check out the Bedlam Wiki here.
And if you would like to support this project by making a donation to Friends Of Bedlam click the button below.