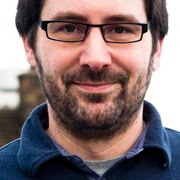 First up to share their Bedlam memories and let us know how things have gone since they entered the 'real world', our very own Chris Cooke. If you want to be a part of our regular Q&A then feel free to let us know by going here.
1. When were you at Bedlam/DramSoc and what did you do?
I was at the Bedlam from 1993 to 1997. I started off working on the FebFest new writing festival, on which I had various roles over the four years I was there. I subsequently became Theatre Manager, and then President, and then Press & Publicity Manager, a role I quickly rebranded as Marketing Manager, because rebranding is what marketing's all about, right? I was Fringe Theatre Manager in 1995, and somewhere along the line did a little bit of show production, mainly 'The Killing Of Sister George' with my now business partner Caro Moses, and the 'Mort' extravaganza in the Pleasance Courtyard, possibly the only theatre project I've ever worked on that made a big fat profit.
2. What's your lasting memory of Bedlam/DramSoc?
I still remember the first day I walked through those big red doors to the Freshers' Week 'Production Workshop', having no idea at all what a theatre producer did, I just kind of liked the theatre and knew I didn't want to act. It was led by then FebFest chief Martin Danziger, and I just remember being really inspired by his central message "this is our building, we can do whatever we like in it, so just imagine something brilliant, and then let's do it". For anyone entrepreneurial that's a very very exciting mission statement indeed. Of course I soon learned there were systems and politics to navigate along the way, but that's all part of being an entrepreneur too. And ultimately, the next four years were full of mad ideas and somehow making them happen. Preferably without burning down the building or bankrupting the company.
3. What did Bedlam/DramSoc teach you?
Aside from the ins and outs of how to run a project, a building and a company – which was a pretty good education just there – being dropped in at the deep end trying to do all of those things taught me how to think on my feet, how to look like I know what I am doing or talking about when I don't, how to make something magnificent out of nothing, how to work through the night to meet impossible deadlines, and how anything can be made better by applying a lick of paint and some gaffer tape. These are all invaluable lessons if you want to run your own business, and I bet they don't teach you any of it at business school.
4. How did Bedlam/DramSoc inform or influence your future career?
Aside from equipping me to run my own company for the last twenty years, the Bedlam also introduced me to the Edinburgh Fringe. Despite all my Bedlam roles, my real passion throughout was media, and I was heavily involved in student radio, press and union events at the same time. So, after doing Bedlam Fringe in 1995 and trying to work out what to do next at the Festival, I decided to combine all those things and create ThreeWeeks. Out of which grew everything my company – the UnLimited group – ever did.
5. What do you do now?
I run that there mentioned UnLimited group of companies with the also aforementioned Caro Moses. We own media, so ThreeWeeks Edinburgh plus ThisWeek London and Complete Music Update; we develop and deliver media education projects; and we have a music and media consultancy. Through CMU and its accompanying educational and consultancy operations I spend a lot of my time in, writing and teaching about the music business, though the regular ThisWeek Podcast keeps me in touch with the other cultural industries, and I spend each August back in Edinburgh co-editing ThreeWeeks.
6. What tips would you have for current Bedlamites who want your job?
Everyone has a degree these days, so to stand out with future employers – whether arts, media or otherwise – you need to demonstrate that you know how companies work, how people work together and how to make things happen. Bedlam equips you for all these things – so when you write your CV don't just put "I did some student theatre" under 'other interests'; put it in your work history and explain how it equipped you with all the skills employers want and degrees don't provide. Though that said, when at the Bedlam I never really thought about what I was doing in terms of future CV lines. It's your building, you can do whatever we like in it, so just imagine something brilliant and do it.