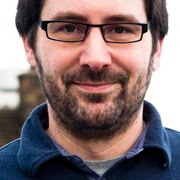 First up to share their Bedlam memories and let us know how things have gone since they entered the 'real world', our very own Chris Cooke. If you want to be a part of our regular Q&A then feel free to let us know by going here.
1. When were you at Bedlam/DramSoc and what did you do?
I was at the Bedlam from 1993 to 1997. I started off working on the FebFest new writing festival, on which I had various roles over the four years I was there. I subsequently became Theatre Manager, and then President, and then Press & Publicity Manager, a role I quickly rebranded as Marketing Manager, because rebranding is what marketing's all about, right? I was Fringe Theatre Manager in 1995, and somewhere along the line did a little bit of show production, mainly 'The Killing Of Sister George' with my now business partner Caro Moses, and the 'Mort' extravaganza in the Pleasance Courtyard, possibly the only theatre project I've ever worked on that made a big fat profit.
2. What's your lasting memory of Bedlam/DramSoc?